Restrictions Ease For More Victorian Businesses
Density quotients of one person per two square metres will soon be lifted for small-to-medium sized venues across Victoria. From 28 May, venues can have up to 200 people per space (such as a dining room or band room) without any density limit, provided COVID marshals are on site ensuring all patrons are checking in to each space. These changes will apply for spaces that are 400 square metres or below, larger spaces still need to observe density limits. This means Victoria's live music venues, restaurants, bars and nightclubs, will be able to welcome more patrons in a COVIDSafe way. It's also an important step for places of worship, with people able to register their details and gather in greater numbers within spaces smaller than 400 square metres.
Density quotients will also be removed for outdoor non-seated venues such as recreation facilities, community sport, pools, tourism services and non-seated outdoor entertainment (e.g. zoos). Existing COVIDSafe requirements will still apply, supported by use of the Victorian Government QR Code Service. For more information on density limits, visit the website here.
It is still important to ensure your patrons check into your business using the Victorian Government QR Code Service through the Service Victoria app. For more information on QR code check ins, see the website here.
---
Camping and Caravan Grants Project
The Camping and Caravan Grants project is part of the Victorian Government's $105.6 million Victoria's Great Outdoors program to invest into delivering better forests, parks, campgrounds, tracks and outdoor facilities. With $6.6 million available, grants of between $5,000 and $200,000 are provided to support Crown Land Committees of Management (including councils and Traditional Owner groups) to provide quality, affordable visitor accommodation across Victoria's coastline and diverse regional and rural areas.
Applications for round 3 of the grants is open and will close on 11 June 2021 at 4pm. For key dates, funding guidelines and how to apply, visit the website here.
---
Small Business Development Program – Today (19 May 2021)
This is the last opportunity to register for the Building Business Resilience and Fortitude workshop today at 5:30pm at the Wangaratta Digital Hub. Paul Ryan from the Australian Resilience Centre will help you see your business through a resilience-orientated lens, and it will explore some of the challenges we face personally and as a business operator during times of change. At the end of this interactive session, take away some tools and strategies for building resilience in your business.
Light refreshments will be served and registrations are essential. Lock in your spot – register here.
---
Small Business Tax Time Toolkit
The Australian Tax Office's (ATO) tax time toolkit for small business is a helpful resource for businesses and agents. It has directories and guides, with topics including home-based business expenses, motor vehicle expenses and support available if your business has been affected by COVID-19.
For more information and to download the toolkit, visit the ATO website here.
---
Online Engagement for Small Business Short Course
GOTAFE will be running an Online Engagement for Small Business Short Course in Wangaratta during Term 3. This is the perfect course for anyone with an existing small business or those who are looking to start one up. In six short weeks, you will walk away with a complete online presence, including a website and social media site. This course will bring your product or service to the world by creating a dynamic online presence.
For eligible students, this course is available as part of the Job Trainer initiative and eligible funded places are available. The course starts on 15 July 2021 and runs one day per week over a six week period between 10am and 3pm. To find out more and to enrol, visit the website here.
The Rural City of Wangaratta is calling for Expressions of Interest (EOI) towards subsidising the course fee for eligible businesses who enrol in the Online Engagement for Small Business Short Course program. Read more here.
---
ASBAS Digital Solutions Program – May and June Webinars
The Australian Small Business Advisory Services (ASBAS) program is being delivered throughout regional Victoria by Melbourne Innovation Centre. The program strives to support small businesses with their online needs by offering the following workshops and webinars among other services. The program for May and June has been released and include:
For more webinars, visit the Melbourne Innovation Centre Eventbrite page here.
---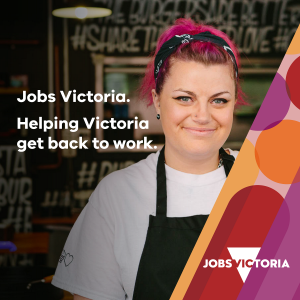 Jobs Victoria Fund – Wage Subsidies
The Jobs Victoria Fund is providing $250 million in wage subsidies to help businesses with the aim of supporting at least 10,000 jobs. Businesses may be eligible for a subsidy of up to $20,000 to employ someone affected by the economic impacts of the COVID-19 pandemic. Employers can register their business on the Jobs Victoria online hub here. Businesses can post jobs and connect with people looking for work. The service is free to use and provides a shortlist of candidates with the skills and experience they're looking for.
To find out more, contact Jobs Victoria on 1300 208 575 or visit the website here.
---
National Wine Sector Bushfire Conference – 25 May 2021
Join Wine Australia for the National Wine Sector Bushfire Conference on 25 May 2021 to reflect on the 2019–20 bushfires around Australia and discuss how to prepare, respond and recover from future fire events.
This free, one day conference will hear from grape and wine producers and leading researchers on the latest findings on bushfire preparedness, smoke effects and recovery from fire to ensure that grapegrowers, winemakers and businesses are better prepared, better informed and better equipped to handle the decisions that need to be made before, during and after bushfires. The comprehensive program also features a presentation by former Commissioner NSW Rural Fire Service Shane Fitzsimmons and tastings of wines produced from the research trials will be available.
Wangaratta Performing Arts Centre – 25 May 2021 from 10am to 5:30pm
To register and for more information, visit the Wine Australia website here.